Sell Property Black Sea Bulgaria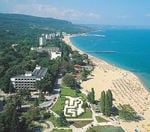 If you want to sell your property on the Black Sea of Bulgaria you will need to attract Russian Buyers. Bulgaria and Bulgarian property has always been attractive to Russians which is why Russian investors still choose Bulgaria as their Number 1 destination for overseas property investment.
According to official figures over 400,000 Russians visited Bulgaria in 2011.
If you would like to discuss your Black Sea property with one of our staff or arrange to meet with a member of our staff while you are in Bulgaria Please Click Here