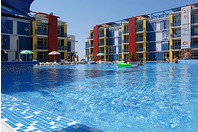 Apartment, Sunny Beach, Bulgaria
€20000
Appreciating Assets are delighted to offer this fully furnished, one bedroom, ground floor apartment to the market at just €20,000.

Property Description
At approximately 60 m2, this spacious one bedroom property offers a fantastic opportunity to acquire an excellent holiday home in a well established development.
This price includes the furniture pack, which means that this apartment is ready for immediate occupation. This chic and trendy low-rise modern holiday development is centred around the amazing swimming pool facilities.
Elite IV is perfect for those seeking to get away from it all for a few days in the sun, to just relax by the pool or on the nearby beach. At this price point, it is difficult to find better value for money, especially in terms of this quality.
This property has an incredibly spacious yet warm and cosy feel to it.
Viewing of this property is highly recommended.
See the video below for a full walkthrough.
Key Information on Elite IV Complex
Elite IV Holliday Village was recently completed in immediate proximity to Elite II and Elite III in the south-western part of Sunny Beach. Only 200 metres from the seaside means that the Fregata beach and the popular Cacao beach are only a few minutes' walk away. It also allows for some gorgeous sea views from the rooftops. The resort is 10 min away from Nesebar (UNESCO World Heritage site) along the seaside. The main Sunny Beach road is close by allowing for an easy connection to both taxis and public transport.
The complex offers a 15 residential groups of four floors each at the periphery of the plot. An attractive area for relaxation, tanning and entertainment is located in the middle of the complex and has 2 swimming pools, children's playgrounds, a restaurant, aqua bar, cafe, shops, a fitness hall and a doctor's office. There are also underground garages available.
Each residential block has its own lift that goes right up to the rooftop. Unique for Sunny Beach, are the flat, usable rooftops with Jacuzzis, sun beds and gardens that offer panoramic views of the sea and the whole resort. The apartments provide the usual comforts expected from the Elite villages and vary from Studios to 2-bedrooms. They come unfurnished (except for the fitted kitchen and bathroom) but can be fully finished at the client's choice.
Distance to beach: 100m
Distance to centre: 2km
Distance to bus station: 50m
Distance to cash machine: 50m
Distance to restaurants: 10m
Distance to supermarket: 10m
Distance to shops: 10m

Address: Sunny Beach 8240, Bulgaria
There is a summer garden and a barbecue available for residents.
The complex comprises of 130 studio, one and two- bedroom apartments which provide all the necessary comforts and conveniences for short or long term stay: cable TV, internet connection, telephone, parking and personal safety box.
The complex restaurant offers a great variety of dishes, fast food choices like pizzas and pasta and some traditional Bulgarian specialties. There is also a pool bar which serves refreshing cocktails, juices, beer and beverages in the very swimming pool.
Spa and Leisure facilities
The premises of the hotel are spectacular with their lush, well maintained green areas, vibrant gardens, trees and alleys. But what's even more magnificent is the comprehensive swimming pool area. With sun beds and parasols surrounding the two swimming pools, you can lounge around and enjoy the sun or have fun in the water. There is a children's swimming pool with a fun water slide and when the weather gets too hot, there is the pool bar to keep you revitalized.
Click for more »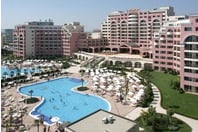 Apartment, Sunny Beach, Bulgaria
€47000
Appreciating Assets are delighted to offer for sale this wonderful exceptionally large 1-bedroomed apartment measuring around 85 square metres, situated on the 2nd floor of Block E in the Majestic Hotel holiday resort in Sunny Beach, now asking 47,000 euros.
Property Description
This property is the epitome of luxury. What any prospective buyer who is considering purchasing an apartment at the Majestic Hotel & Beach resort is looking for is absolute quality, and this development does not disappoint. Furthermore, this particular property is perfectly situated on the 2nd floor (so off the ground but not too high either). Obviously those properties with a better vista do tend to command a significant price premium, as we all would expect. In a nutshell then, this is a perfectly situated property in a top-class resort, that also boasts considerable size too. Despite there only being one bedroom, this apartment at 85 square metres internally, is bigger than many of the typical 2-bed apartments that are found in Sunny Beach, or indeed along the Black Sea coast. in terms of interior decor, this apartment could only be classified as 5-star. The decor is very modern and trendy with a lot of contrasting wooden furniture, doors and door frames, set against lightly coloured marbel-effect floors. The kitchen is no exception with again a lot of two-tone wooden cabinets and matching dining table and chairs. A similar theme spills over into the rest of the main living space; the TV stand, coffee table and sofa are all extremely stylish also. The bathroom is fully-tiled from floor to ceiling and is very well specified, including white bathtub with integrated shower head. The master bedroom is big and beautiful, with large double bed flanked by sumptuous lockers as well as other matching bedroom cabinets. Lastly, there is the magnificent balcony is perfect for dining al fresco or for relaxing mid-morning breakfasts outside soaking in not just the ultraviolet rays of the sun, but also breathing in that lovely sea air. This is a premium property at an exceptional price.
Majestic Hotel & Beach Resort
Majestic Beach Resort is an elegant and charming complex, which provides a relaxing and sophisticated atmosphere, a perfect ambience of warmth and hospitality. The complex is strategically located in the northern part of Sunny Beach and has a total built-up area of 56,000 square metres.
Majestic Beach Resort comprises of a 4 * hotel facilities with two adjoining blocks of exclusive apartments. The complex offers ultimate on-the-beach experience, comfortable originality and spacious luxury. The large open area on the very front of the complex spreads on more than 10,5 acres, thus forming a unique garden with spacious swimming pools surrounding the exotic palm trees. Majestic Beach Resort is not only a large modern project but rather a gleaming jewel of modern architecture, a place where luxury meets design and dreams – reality.
The central hotel block comprises of 339 double rooms (including 4 rooms for disabled), 50 studios and 15 apartments. There are 328 exclusively furnished apartments in the two blocks, all of which tastefully decorated to satisfy the expectations of the most discerning guests. The units are split into 123 studios, 187 one-bedroom, and 18 two-bedroom apartments.
Everything in Majestic Beach Resort is designed to touch and tantalize all senses in order to bring you the ultimate pleasures of body, mind and spirit.
Click for more »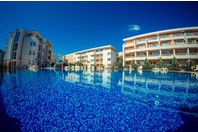 Apartment, Nessebar, Bulgaria
€25000
Appreciating Assets are pleased to offer for sale this stunning, fully furnished 1 Bedroom apartment in the highly sought after Nessebar Fort Club complex at just €25,000
This large one bedroom property is located in block D1 of this highly desirable complex and will offer its new owner a comfortable holiday home and an excellent investment opportunity.
At 55.5 m2 the property has a spacious and bright feel which lends itself to comfortable living for you or your guests. The balcony can be accessed from both the living room and the master bedroom, making al fresco dining a perfect choice for breakfast, lunch and dinner.
This property deserves serious consideration for anyone considering purchasing a holiday home this year!
Nessebar Fort Club
Nessebar Fort Club is situated in Sunny Beach region, next to the Aqua Park. It is in the western part of the resort and only a few hundred metres from the sandy beaches. The complex is a place full of natural beauty and an exceptional combination of mountain and sea air. Garden area of the complex is colourful combination of natural plants and trees over more than 15 000sq.m. One advantage of the location of the complex is its close proximity to reserve "Kalinata" . Nature lovers can enjoy the beautiful forest and walking paths. All the apartments have an exclusive view of the inside swimming pools and the nearby mountains.
Facilities:
On the complex are situated the following facilities:
3 Restaurants – Sea food cuisine, Italian cuisine and Mediterranean cuisine
Bar
Vienna Cafe
6 swimming pools for adults with life-guards
A swimming pools for children with life-guards
Shops
A fitness club
A sauna
Change
Playgrounds for children
Tennis courts - football field
Beauty centre
Medical centre
Dentist centre
Internet club
Relax zone with green area – trees, flowers and grass area
Rubbish bins and ash-tray for cigarettes next to all blocks
Rent-a-car
A guarded parking lot
Training putting green with 15 holes
Click for more »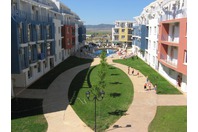 Apartment, Sunny Beach, Bulgaria
€16000
Appreciating Assets are delighted to offer for sale this fully-furnished first floor 1-bedroom apartment in House #9 of the well-known Sunny Day 3 holiday resort on the Black Sea coast, measuring around 45 square metres internally and now asking just 16,000 euros.
Property Description
This property is located in House #9, on the first floor (that is ground + 1) of the Sunny Day 3 resort complex. This apartment is presently fully-furnished so is essentially ready to move into and is in great condition. There is a fully-tiled bathroom with sink and shower unit that has been designed with a view to minimum fuss and maintenance, thus easy to clean (important for holidaymakers returning from the beach or pool area). There is a kitchenette as part of the main living-cum-dining area and includes all of the modern conveniences that any holidaymaker should require, plus it is perfect for preparing light meals and snacks. This 1-bed apartment is approximately 45.03 square metres in terms of internal floor space. The main bedroom is furnished with a double bed and matching bedroom furniture such as bedside locker, cabinets and ree-standing closet. As with all properties of this type at Sunny Day 3, there is a balcony area that is accessed off the main living room. At the current asking price we believe that this property offers tremendous value for money, especially when considering the asking price on a price-per-square-metre basis, now a figure quite close to new build cost today.This property is ideal as a bolthole to the sun during the summer months or alternatively as a rental property investment.
Background to Sunny Day 3
Sunny Day 3 occupies an area of more than 14,000 square metres (roughly 3.5 acres) and consists of 350 modern apartments in 15 residential buildings. The complex offers outdoor swimming pool, pool bar, children's playground, restaurant, shops, plenty of places for parking cars and a beautiful green area. Finished apartments in Sunny beach, fully furnished and ready to use, give an excellent opportunity to invest wisely. The apartments are with laminate, painted latex walls and ceilings, PVC window – glazing, MDF entrance and interior doors, electrical switches and contacts, lamps. In bathrooms and toilets – terracotta, faience and accessories. Complex Sunny Day 3 in Sunny beach is with all-year-round physical and electronic security protection.
Click for more »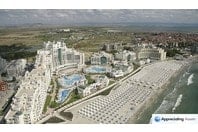 Apartment, Pomorie, Bulgaria
€32000
Appreciating Assets are delighted to offer this stunning 4th floor, one bedroomed, fully furnished apartment in the much sought after Sunset Resort to the market.The property is new to the market and is currently for sale at a very reasonable €32,000.
This spacious property in Building B is approximately 70 square metres in size. Sunset Resort is a very popular and sought after holiday resort thanks to the amazing facilities within the resort and the superb location on the beach in Pomorie. The flooring is predominantly tiles which are very easy to maintain. Bathrooms are fully-tiled from floor to ceiling using a two-tone or dark & light contrasting combination. There is a bathtub with shower attached. The bedroom is large and well equipped with headboards, bedside lockers and closets as well as drawer units. Again, in keeping with the upmarket theme of this particular development the kitchens are high contrast dark wooden units against a light or white background, resulting in a feel that no expense was spared during the original fit-out of this property. The apartment can easily cater for 6 adults or indeed a large family. Typically along the Black Sea coast, the more salubrious resorts rarely sell for less than four figures per square metre or about double what the cheaper (entry-level) end of the market goes for, so this apartment at the current asking price is both realistic whilst offering tremendous value on a per square metre basis to any prospective purchaser.
Key facts on Sunset Resort
Sunset Resort is located in the town of Pomorie, with a great south west orientation. It is only 15 minutes away from Burgas International airport and less than 20 minutes from the city of Burgas itself, the second biggest city on the Black Sea coast. Sunny Beach, the most famous resort of the Bulgarian Black Sea is also less than 15 minutes away as is the ancient and historical town of Nessebar, which is rightly famous for its architecture and archaeology
Sunset Resort is located right beside a 400 metre long (quarter-mile) beautiful natural sandy beach in the new quarter of Pomorie. It is close to the main motorway for Burgas to Varna, which connects the hotel compound with the city of Burgas, the antique Nessebar, as well as with the largest and most popular holiday destination on the Black Sea Coast, Sunny Beach.
The South Beach of Pomorie stretches down a quiet gulf in the Black Sea coast. Remarkably, it is one of the safest beaches in Bulgaria, having very slight surf and almost no tide. It has a total length of approximately 1 km and width of up to 100 metres in places, so very wide and long.
The luxury five-star Sunset Resort comprises 5 Aparthotel and 6 deluxe waterfront villas, on a total built up area of 115 000 square metres. The four outdoor swimming pools offer various water attractions and include two pool bars, all expanding on a total area of more than 3 500 square metres.
Sunset Resort has a huge range of facilities in addition to the wonderful swimming pools, including; cocktail bars, restaurants, shops, outdoor cafes, and so on with the added benefit that all are set in extensive private grounds. There are beautiful views of the sea and, indeed, towards the Stara Planina Mountain. This is a luxurious resort that is the envy of many in Europe with all the leisure facilities and services you could possibly wish for - a great choice for a high class vacation.
The quality of the Sunset Resort development is evident from the moment you arrive and is mirrored by the quality of build and finishes in these lovely apartments. This resort complex overlooks the crystal blue waters of the Black Sea, and these apartments make for great summer homes or alternatively as rental properties to the booming holiday market.
Click for more »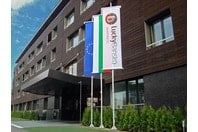 Apartment, Bansko, Bulgaria
€25000
Appreciating Assets are delighted to offer for sale this 38 sq.m studio ski apartment at the highly sought after Lucky Bansko Aparthotel for the great price of only 25,000 euros.
Property Description
This is a reasonable size for a studio at 38 square metres and the property is in immaculate condition. The property comes fully-furnished and is ideal as a ski getaway, so would be perfect as an investment with good rental potential. The Lucky Bansko hotel offers numerous facilities such as indoor swimming pool, sauna, steam room, fitness centre as well as childrens specialist play area.
Lucky Bansko Key Information
Lucky Bansko complex is located at the entrance of Bansko, at the foot of Pirin Mountain, Bulgaria.
Distance to ski lift: 1600 m
Distance to centre: 450 m
Distance to airport: 160 km to Airport Sofia
Distance to bus station: 300 m
Distance to railway station: 300 m
Distance to restaurants: 300 - 400 m
Distance to shops: 300 - 400 m
Click for more »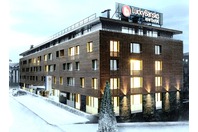 Apartment, Bansko, Bulgaria
€24000
Appreciating Assets are very pleased to offer this stunning, fully furnished one bedroom apartment for sale in Lucky Bansko, at just €24,000
Property Description
This one bedroom apartment measuring approx. 60 square metres is located on the first floor of this low-rise five-storey development. A huge benefit of this complex is the proximity to the ski-lifts during the winter snow season as well as the lovely spa & pool facilities that this particular aparthotel has to offer. The indoor swimming pool is superb. As far as the decor goes for this property, as the interior photographs show; this is an Aparthotel, so design is very chic and modern, especially the sumptuous tiled bathrooms. The kitchen area blends in wonderfully with the rest of the living space which has a very cosy feel to it which is an important fact when on ski vacations. Interior decor is very neutral with a high concentration on brown/beige colours in the main living space and then grey/white in the bathroom. As with a lot of ski or chalet-type properties, extensive use of wood, particularly light or natural wood is used in the interior; for furniture as well as headboards on beds etc. Overall, this property at Lucky Bansko has acheived a warm & cosy feel, while remaining quite modern with a minimalistic and linear feel. Apartments in Lucky Bansko are designed not to stand out so much, rather to blend in with the natural mountainaineous surroundings whilst being very compact and functional. Lucky Bansko is a wonderful development that is not too big, thus retaining a lot of character, so for many people seeking a bolthole for the winter ski season it ticks the right boxes, and given that this property is priced very competitively we expect interest to be high.
Key Information on Lucky Bansko
Location: Lucky Bansko complex is located at the entrance of Bansko, at the foot of the Pirin Mountain. The complex offers 67 studios and 47 apartments plus 1 Presidential apartment, in addition to a wonderful pool and spa centre as well as a 150-seater conference room and of course a beautiful restaurant and bar.
GPS coordinates: 41° 50′33′′N 23°29′6′′E
Bansko lies 160 km (including 120 km motorway) south of Sofia (or about two hours' drive from Sofia Airport).
Accommodation: The Studios and the Apartments at Lucky Bansko Aparthotel are furnished luxuriously and stylish, with comfortable and practical furniture. All residences are equipped with TV sets, telephones, wireless Internet, mini-safe box and fully equipped and furnished kitchenette with coffee machines, ceramic plates, toasters, hot water jugs, refrigerators, microwave ovens, cutlery and dishes. The bathrooms are with bath tub, shower, and hair dryer and are supplied with bath cosmetic, slippers, full set of towels and bathrobes.
Wine & Dine: Lucky Bansko Aparthotel offers a Le Bistro restaurant, a lobby bar, as well as round-the-clock room service to accommodate you. If you don't want to leave your home atmosphere behind during your holiday you can prepare your favourite dishes by yourself. A fully equipped kitchenette, a rich variety of products and drinks in different sizes are offered at the Aparthotel store.
Spa & Wellness: Lucky Bansko spa centre offers a variety of whole body massages, aromatherapy, peeling massages, cosmetic facial and lux therapies and electrotherapy. Fitness, steam bath, sauna, solarium and indoor swimming pool are at guests' disposal.
Additional Services & Amenities:
Wireless Internet in all premises;
Room service
Laundry and ironing;
Internet stations in the lobby bar;
Office services (fax, telephone, copying, printing, etc.);
Free transport to the lift every 30 minutes;
Ski wardrobe with heating for ski boots;
Daily cleaning of apartments;
Care for small children by professional baby sitters and children's corner for 2-6 years old;
Underground covered parking and parking lots in front of hotel;
Electronic game room;
Excursions to tourist sites;
Wine tasting;
Bicycles for rent.
Key facts on Bansko
Click for more »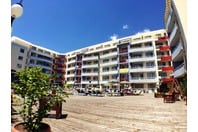 Apartment, Sunny Beach, Bulgaria
€35000
Appreciating Assets are delighted to offer for sale this extremely large 92 m2, 2-bedroomed, 2 bathroom, 2nd floor apartment at Central Plaza Sunny Beach for the very competitive price of just €35,000.

Property Description
Located on the second floor of the complex, this spacious two-bedroomed apartment enjoys a total built up area of 92m2. The bedrooms are large and comfortable. There are two bathrooms in the property which is very unusual for this market. The large open plan living and dining area is complimented by a fully equipped kitchen area with plenty of cupboard space.
Property Location
The Central Plaza complex as the name suggests is located in the centre of the Sunny Beach resort and as such is close to all possible amenities. For instance, the following is a list of essential holiday necessities and how close by they are:
Distance to beach: 680m
Distance to centre: 230m
Distance to airport: 30km to Airport Burgas
Distance to bus station: 250m
Distance to railway station: 35km
Distance to cash machine/ATM: 250m
Distance to exchange office: in the direct surroundings
Distance to restaurants: 100m
Distance to supermarket: 70m
Distance to shops: 100m
Background to Sunny Beach, Bulgaria
Situated in the southern part of the Bulgarian Black Sea Riviera. Stretching along a beautiful semi-circular bay facing east. Closed to the north by the descending ridges of the Balkan Range, thus blending sea and mountain in perfect harmony. Lying to the south is the small peninsula on which the ancient town of Nessebur is located - an architectural and historic monument of Bulgarian and world culture.
GPS car coordinates Latitude 42.6953135479979 Longitude 27.7104699611664
Accessibility:
Regular bus services to regional centres Burgas (35 km away) and Varna (95 km).
Connections worldwide via Burgas international airport, harbour, railway station.
Sunny Beach is a bearer of the prestigious BLUE FLAG prize for proven ecological advantages along the Black Sea coast. This is one of the few places along the Black Sea coast where one can still see genuine well-formed sand dunes - the most beautiful ones are situated in the resort's southern part.
The combination of coniferous and deciduous forests with sea and beach, unspoiled nature make Sunny Beach holiday a true health holiday destination.
Weather Overview - Sunny Beach
Bulgaria's Black Sea coast has a maritime climate. Summers are typically hot and dry, but rarely oppressive, with moderate, relative humidity. In the Black Sea coastal regions, including Bulgaria's Sunny Beach, Mediterranean influences temper the harsher continental climate of the rest of the country.
Locals say the area, particularly north of Sunny Beach, has a unique climate due to the combination of sea and mountain air, which they say is most favorable for people with asthmatic and respiratory conditions.
Click for more »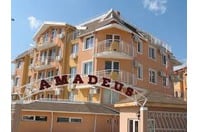 Apartment, Sunny Beach, Bulgaria
€35000
Appreciating Assets are delighted to offer for sale this delightful and spacious; at approximately 90 square metres, 2-bedroom apartment situated on the Top floor of the Amadeus 3 holiday complex in Sunny Beach Bulgaria, for the current market price of only 35,000 euros.
Property description
This property is approximately 90 square metres internally, so as far as Black Sea coast holiday apartments go, this one is slightly larger than usual. The apartment is situated on the Top Floor (which is a major consideration for many Eastern European buyers). The interior is decorated with beige and brown neutral colours and there is a mix of wood-effect laminate and tiled flooring. The bathroom of course is fully-tiled and includes a shower. The kitchen area is very functional and includes a large number of tall wooden cabinets, so plenty of storage space, along with all the modern conveniences that one would expect from a holiday property, including oven/hob, washing machine and free-standing fridge/freezer. The main living space is open-plan and incorporates a dining table with chairs, plus sofa, coffee table and TV stand. Both bedrooms are also well specified and include double beds. Lastly, there is also a modern balcony with nice views too. Overall then, this is an excellent property offering a good amount of living space, close to all of the necessary amenities (see list below) and is just a short stroll from the beach or the town centre.
Property key features summary:
Air-conditioning as stanadard
Electricity
Water
Communal sewage system
Balcony
Bathroom with toilet
Interior doors
Laminate flooring
Painted walls
Tiled flooring
UPVC window frames
Built-in kitchen
Equipped bathroom
Furniture
Gated development
Lift
Luxury common parts
Porter
Swimming pool
Swimming pool views
Well-kept garden
Cable TV
Internet
On asphalt road
Food shops nearby
Area & Amenities summary:
GSM coverage
Cable TV
Internet
Post office
Public transport
Bus stop
Hospital
School
Supermarket/Hypermarket
Petrol station
Car service
Car wash
Food market
No industry
Pharmacy
Hair-dresser
Restaurant
Bar
Disco
Cafe
Digital TV
Bank
The closest airport is about 40 km away
Closest city/town Nessebar, which is only 3 km away
Background to the Amadeus development
Amadeus located in the north-east part of Sunny beach, 300 metres away from the beach and 3 kilometres away from Nessebar. It is designed as a micro complex with residential areas to be used all year round. The apartments of the complex are divided into different categories - studios, one and two-bedroom apartments, shops and a café. The building is designed and constructed in a way that reveals a cosy inner yard. There are a swimming pool, open-air bar, lawns and a parking lot in the yard.
The building has the following technical specifications:
Floorings: - rooms lounge, bedroom, kitchen and corridors: ceramics, laminated parquet alternative floorings are available; - bathrooms: terracotta flooring; - balconies: ceramic tiling
Walls: - rooms lounge, bedroom, kitchen and corridors: whitewash-cement coating, plaster board and latex painting.
Joinery: PVC plus window packets and mosquito nets.
Plumbing: polyethylene and propylene plumbing, PVC and separate water-meter for each property.
Electric wiring: cables and wiring in concealed pipes, switches, wall-plugs, lighting by design. Produced in Bulgaria, electrical meter and electrical water heater.
Bathrooms: completely furnished with facilities produced in Bulgaria
The entry to the development is controlled through a checkpoint that guarantees the security of the property and its residents/guests therein. The road from/to Nessebar and the inter-city route Burgas-Varna facilitate the access to the property.
The Residence also offers swimming pools, parking lots, shops, cafes, green areas, and 24 hour security guard, daily cleaning services of the inner yard and park, gardening, technical maintenance of all facilities throughout
Click for more »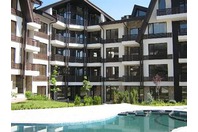 Apartment, Bansko, Bulgaria
€17000
Appreciating Assets are very pleased to offer this one bedroom apartment for sale in Aspen Suites, Bansko at just €17,000.
Property Description
This one bedroom apartment is located on the ground floor and is approx, 78.76 isn size
About Aspen Suites Ski Resort in Bansko
Aspen Resort Golf Ski & Spa Apartment complex is located in the beautiful and quiet area of Razlog Valley. The resort is 10 minutes by car from the well known Bansko ski resort. The internationally recognized outstanding 18-hole "Pirin Golf" course designed by the winning 2006 Ryder Cup Captain - Ian Woosnam is just 300 m away.
The guests of Aspen Resort benefit of the magnificent view to the snowy hills of Pirin, Rila and Rhodopes mountains and luxury Spa and Wellness centre.
The complex consist of one main building – Aspen Golf and 2 further wings – Aspen Suites and Heights. The Reception, restaurant and wellness centre are located in Aspen Golf.
All accommodation units at the Aspen Resort come with a cable TV with DVD player, as well as a private bathroom and hairdryers. They have a fully equipped kitchenette including fridge, oven, kettle and toaster.
In Aspen Golf there are indoor heated pool as well as outdoor pool, operational during the summer time. Modern and newly furnished restaurant and lobby bar are provided. In the complex there is a kids club and playground in the beautiful garden, barbecue, billiards and well equipped fitness are also at disposal of the guests.
Free Wi-Fi in the public areas, free private open-air parking is available on site.
A heated indoor pool is also provided in Aspen Heights.
All guests of the complex use indoor pool, sauna, steam-bath and fitness free of charge.
About Bansko
Click for more »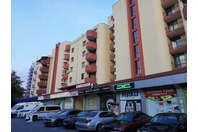 Apartment, Sunny Beach, Bulgaria
€22000
Appreciating Assets are very pleased to offer this spacious and fully furnished one bedroom Sunny Beach apartment for sale in the well established development of Ashton Hall at just €22,000.
The property consists of an entrance hall, fully fitted kitchen, living room, bedroom and bathroom. The balcony can be accessed through the bedroom and living room. It runs the length of the apartment and overlooks the neighbouring pool area. The balcony itself if very well maintained and offers the feel of an additional room.
The living area comes with a very well presented dining table and chairs. The area blends well with the kitchen area and is tiled throughout.
The bedroom is furnished with a double bed, bedside lockers and wardrobe.
The bathroom is tiled throughout and comes with, toilet, wc, water heather and shower.
This property offers an excellent opportunity to own a very spacious one bedroom apartment in Sunny Beach in a very well established area.
We highly recommend a viewing of this property as it is an ideal holiday home on the Black Sea Coast.
Click for more »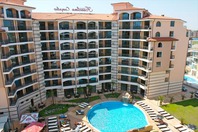 Apartment, Sunny Beach, Bulgaria
€27000
Appreciating Assets are delighted to offer for sale this fully-furnished spacious 1 bedroom, 5th-floor apartment, in the stunning Karolina Complex in Sunny Beach, at just 27,000 euros.
This 4-star Karolina Hotel is located in the eastern part of Sunny Beach resort only 150 metres from the beach and a 10-minute walk to the ancient town of Nessebar. The luxurious and comfortably appointed accommodation provides all modern amenities and the complex has a lot of facilities on offer. There are 2 restaurants a lobby bar and a pool bar. You can unwind in the outdoor swimming pool without worrying about your little ones as there is a section for children and the sun-bathing terrace with parasols and lounges awaits you. After a long day outdoors be pampered in the spa centre or work out in the fitness room.
Property Description
The property itself is approximately 65m2 in size and is located on the 5th floor with a wonderful view of the pool. The kitchen comes fully fitted with hob, fridge freezer, washing machine, kettle and toaster.
Click for more »