Largest Property Exhibitions In Russia for Foreign Property.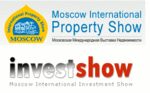 Oct 14th and 15th sees the Moscow International Investment Show one of the most focused investment shows tailored for the Russian private and Corporate investor. It is gathering experts on overseas property to inform and educate these WILLING buyers of International Property especially Bulgarian Property.

As the Russian Market already is the single largest investor in Bulgarian Real Estate, it is viewed that their appetite for buying more Bulgarian Properties is no where near finished. Even more, the Bulgarian Real Estate Market is still viewed as the best place for the Russian invesrtors.
The organisers of the show know full well that the Russian Investor is actively seeking Bulgarian Properties to buy, and this year they created the Bulgarian Property Salon. This is a special event within the show that takes place in a detached pavilion. The Salon's aim is to arrange direct contacts between potential investors and buyers, Appreciating Assets will be there with their local agents on the ground ensuring that all of our clients and their Bulgarian Properties for Sale will have access to these investors.

Our Russian Agents will also be attending the St. Petersburg International Property Show: 28-29 October 2011 and Moscow International Property Show: 18-19 November 2011. Moscow is the powerhouse of Russia and it is estimated that 80% of the wealth is concentrated in the city. Business is booming in Moscow. The wealthy are amassing fortunes and continue to travel extensively. The initial race to visit new international destinations has quietened and many affluent Russians are now looking for luxurious residences in all year destinations.
With all economic indicators showing continuing growth more Russians are finding disposable income and are looking for International property for personal enjoyment and for Investment. So if you have
Bulgarian Property
that you wish to showcase at this event with our Russian Agents - it could be anything from apartments in Sofia and Plovdiv, through to the holiday resorts of villas and apartments in the Black Sea, the Ski Resorts, and the Golf complexes, any Bulgarian properties, - then we, in Appreciating Assets, will ensure that you are given the best chance of getting your property sold.
As we specialise in this only ( houses sales and apartments sales) you are ensured that we will get you the very best price that is available in the market, so if you want to advertise and get your overseas property shown to these Russian Investors read some more of what we do here. Or fill in the contact form below and one of our staff members will contact you shortly.