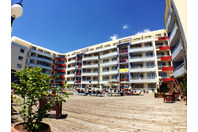 Apartment, Sunny Beach, Bulgaria
Appreciating Assets are delighted to offer for sale this fully furnished 1 bedroom, 2nd floor apartment at Central Plaza Sunny Beach at just €27,000.
Property Description
Situated on the second floor, of the very well maintained Central Plaza complex in Sunny Beach, this spacious one bedroom apartment offers exceptional value for such a well located holiday home.
The property has been tiled throughout with the exception of the bedroom which has been finished in high quality wooden laminate.
The property consists of an entrance hall, living area, kitchen/dinning area bathroom and bedroom.
All areas have been furnished and decorated to a high standard of finish and quality.
Property Location
The Central Plaza complex as the name suggests is located in the centre of the Sunny Beach resort and as such is close to all possible amenities. For instance, the following is a list of essential holiday necessities and how close by they are:
Distance to beach: 680m
Distance to centre: 230m
Distance to airport: 30km to Airport Burgas
Distance to bus station: 250m
Distance to railway station: 35km
Distance to cash machine/ATM: 250m
Distance to exchange office: in the direct surroundings
Distance to restaurants: 100m
Distance to supermarket: 70m
Distance to shops: 100m
Background to Sunny Beach, Bulgaria
Situated in the southern part of the Bulgarian Black Sea Riviera. Stretching along a beautiful semi-circular bay facing east. Closed to the north by the descending ridges of the Balkan Range, thus blending sea and mountain in perfect harmony. Lying to the south is the small peninsula on which the ancient town of Nessebur is located - an architectural and historic monument of Bulgarian and world culture.
GPS car coordinates Latitude 42.6953135479979 Longitude 27.7104699611664
Accessibility:
Regular bus services to regional centres Burgas (35 km away) and Varna (95 km).
Connections worldwide via Burgas international airport, harbour, railway station.
Sunny Beach is a bearer of the prestigious BLUE FLAG prize for proven ecological advantages along the Black Sea coast. This is one of the few places along the Black Sea coast where one can still see genuine well-formed sand dunes - the most beautiful ones are situated in the resort's southern part.
The combination of coniferous and deciduous forests with sea and beach, unspoiled nature make Sunny Beach holiday a true health holiday destination.
Weather Overview - Sunny Beach
Bulgaria's Black Sea coast has a maritime climate. Summers are typically hot and dry, but rarely oppressive, with moderate, relative humidity. In the Black Sea coastal regions, including Bulgaria's Sunny Beach, Mediterranean influences temper the harsher continental climate of the rest of the country.
Locals say the area, particularly north of Sunny Beach, has a unique climate due to the combination of sea and mountain air, which they say is most favourable for people with asthmatic and respiratory conditions.
Click for more »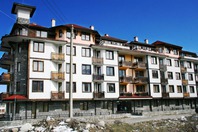 Apartment, Bansko, Bulgaria
Appreciating Assets are delighted to offer for sale this fully-furnished spacious 1-bed ski apartment measuring 60 square metres internally, situated on the 2nd floor of the Snow Lodge resort complex in Bansko, along with dedicated parking space and mountain views, now asking just 25,000 euros.
Property Description
This is a spacious 1-bedroom ski property that is approximately 60 square metres in terms of internal floor space including semi-enclosed balcony that enjoys lovely mountain views. The apartment is very cosy featuring an abundance of natural wood features, most notably in the kitchen-cum-dining area as well as the wood-effect laminate flooring. The kitchen cabinets in this development feature a cream inlaid panel in many of the cupboard doors, making for a pleasant and distinctive contrast. There is a fully-tiled bathroom, from floor to ceiling, along with glass enclosed corner shower unit and the tile colouring is two-tone; a mix of light and darker contrasting wall tiles. The bedroom is plain and simple featuring a large double bed with modern sleek wooden headboard, as well as matching bedside locker and closet. Electric storage heaters are conveniently placed on the walls in key areas such as the bedroom under the window, or in the case of the main living room; beside the windows and doors to the balcony area (thus ensuring a plentiful supply of warm air flowing throughout the property as cold air enters and is heated). Clearly a lot of thought and planning has gone into the layout and design of these apartments to ensure that they remain snug during winter months. Finally, there is a balcony accessed off the main living space that enjoys beautiful mountain views..
Background Information on Snow Lodge
Snow Lodge is located just 15 minutes' walk from the centre of Bansko, plus it is just 700 metres from the nearest ski lift gondola. The apartment complex is just 9 km from Skit tracks Bansko. The apartment complex is fully wired for TV as well as free Wi-Fi access. The development has its own private car park which is important as there are many public car parks nearby but all of whom charge fees. Snow Lodge is popular with tourists who like to hike and go horse-riding during the summer months as well as those who prefer to go skiing during the winter season, so it is both open and active all year round.Snow Lodge has a family room, a smoking room, a laundry service and the building has elevators of course, which are much needed when moving about with luggage or ski gear. Car hire is available as well as airport transfers or shuttle service from this building (inquire at reception to arrange).
Click for more »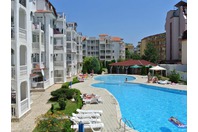 Apartment, Sunny Beach, Bulgaria
Appreciating Assets are very pleased to offer this spacious two bedroom apartment in Bravo 5, Sunny Beach for sale at just €27,000.

The lovely Bravo 5 complex is located in the centre of Sunny Beach, Bulgaria's biggest and most famous resort. The complex is within walking distance of all the attractions and amenities in this renowned resort. It is less than 30 minutes from Bourgas international airport.

Bravo Holiday Village is a well-established development in a well maintained private community with its own poolside bar/restaurant and large freestyle swimming pool, that attracts the sun all day. When you must drag yourself away from this peaceful oasis with its pretty arches and balconies, the full range of amenities and facilities of Sunny Beach are only a short walk away. In fact, some of the most popular restaurants in Sunny Beach are located in the market area, which is a two-minute stroll.

A short walk from the Apartment brings you to Sunny Beach, which is renowned for its lovely 'blue flag' beach of fine golden sand and natural dunes that extends for nearly eight kilometres along crystal clear waters. This entire area, better known as the Bulgarian Black Sea Riviera, is famous for its microclimate, making it a great place for sunbathing with over 1,700 hours of sunshine between May and October and an average daily temperature of 27 degrees. It has a vibrant, exotic and popular nightlife, not to mention the shopping, restaurants and a range of water-based sports and facilities to meet everybody's requirements. Protected to the north by the descending ridges of the Balkan Range of mountains, to the south is the small peninsula on which the ancient town of Nessebar is located - formerly a fisherman's town, it is now one of the loveliest of Bulgaria's historical attractions and is a UNESCO architectural and historical reserve and a 'must visit' when in the area.

This lovely apartment is bright, spacious and very comfortable. High quality building materials have been used throughout reflected in the finishing and fitting-out: HDF doors, PVC double-glazed windows, first quality Spanish terracotta tiles and wall tiles, modern fitted kitchen, granite tiles to the balcony, to name a few. This presents a wonderful opportunity, whether for personal use or holiday rental, to take immediate advantage of this reluctant sale.

To arrange a viewing or for any other questions you may have about this property, please contact one of our sales team, who will be happy to help you. (We have representatives who are fluent in English, Bulgarian, Russian and Greek)

sales@appreciatingassets.ie
Click for more »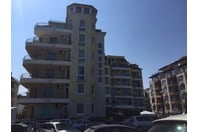 Apartment, Sunny Beach, Bulgaria
Property Description
This large property covering some 76 square metres of internal floor space, is located in the most sought after holiday resort on the Black Sea coast, but it is also an excellent size too, especially when compared to most of the apartments for sale in Sunny Beach.This apartment offers excellent views of the Black Sea from the balcony making it perfect for dining al fresco or for just taking in some fresh sea air, given that this is a front-line development. The main living area like many properties along the Black Sea coast is laid out with an open-plan design, encompassing kitchen-cum-dining area leading to main TV/sitting room. The built-in kitchen is compact and functional with separate refrigerator and it has a washing machine as well as a microwave. The stainless steel oven/hob is perfect for cooking light meals when not dining out. There is a fully tiled bathroom with bath-tub/shower and shower curtain. The master bedroom is spacious and furnished to modern taste. A property of this size could easily cater for 4-6 adults or a reasonable sized family.
The Breeze Complex
The Breeze complex is located just a two minute to the golden sands of Sunny Beach and directly faces the beach. As the Green Area between the complex and the Beach is currently zoned as a protected area it is not envisaged that any future building can be constructed to obscure your view.
The facilities within the complex include a cafe, swimming pool and elevator. There is also parking available for those with cars.
Click for more »
Apartment, Sunny Beach, Bulgaria
Appreciating Assets are delighted to offer for sale this very spacious fully-furnished 1-bedroom apartment in the much sought after Summer Dreams Complex at just €24,000.
Property Description
The decor of this apartment is very bright and clean. The kitchen itself is very functional with plenty of cabinets for storage and it covers all of the essential requirements. The main TV/living room also has a tanned coloured large sofa and a small TV stand. The bathroom is fully-tiled from floor to ceiling, thus easy to clean and maintain. The bedroom is very spacious and fully furnished.
Summary Information on Summer Dreams Aparthotel
Summer Dreams is luxurious apart hotel located 400 metres from the sandy beach of Sunny Beach resort and 3 min from the centre of the resort (hotel Kuban).Distance to beach: 0.6 km
Distance to centre: 600 metres
Distance to airport: 38 km
Distance to bus station: 100 metres
Distance to cash machine: 100 metres
Distance to exchange office: 100 metres
Distance to restaurants: 100 metres
Distance to shops: 200 metres
All the apartments are with kitchenettes installed and supplied with a cooker, oven, refrigerator, water heater, toaster, coffee-maker, all utensils etc. All this gives a full free hand and possibility for self-catering tourism.
On offer at this location are excursions, room service, and transport and pick up services, rent a bicycles, rent a car, breakfast etc.
A comprehensive list of the facilities at Summer Dreams is as follows:
Cleaning service is provided every three days.
Security safe at the reception: yes, on payment
Safe in the rooms: no
Internet in the hotel: yes, on payment
Internet in the rooms: no
Reception: 24 hours
Elevator: yes
Parking: yes, free
Shuttle bus: no
Lounge: yes, free
TV corner: yes
Room service: no
Credit cards: no
Business centre: no
Conference/Banquet hall: no
Laundry/dry cleaning: yes
Facilities for disabled people: no
Non-smoking rooms: no
Soundproofed windows: yes
Apartment Cleaning: 7 times per week
Food and dining facilities:
Restaurant(s): yes
Bar(s): yes
Snack bar: no
Lobby bar: no
Pool bar: no
Recreational Facilities:
Outdoor swimming pool: yes, not heated
Indoor swimming pool: no
Deckchairs: yes, free
Parasols: yes, free
Towel service: no
Massage: no
Fitness: no
Sauna: no
Steam bath: no
Solarium: no
Jacuzzi: no
Spa procedures: no
Child/Pet services:
Baby cot: yes, free
Child chair: no
Playground: no
Children animation: no
Children swimming pool: yes, free
Pets: no
Click for more »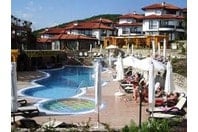 Apartment, Kosharitsa, Bulgaria
Appreciating Assets is delighted to offer this extremely spacious 71 sq.m. 3rd floor property in this very exclusive development with a fantastic swimming pool and bar area, for the very keen price of 20,000 euros.
Built in 2007, this is an exclusive development of luxury villas, each divided into separate apartments. The whole community includes a full spa and sports centre, a restaurant and bar complex, concierge services and much more. The site comprises over 45,000 m2 and facilities on offer include an entrance hall with 24-hour reception, a currency exchange facility, a cafe, a hairdresser, a bar, a pub, a restaurant, Internet access, a laundry service, a children's playground and parking for those arriving by car. The hotel is situated in the tranquil Almond Mountain area of Sunny Beach. This location offers stunning views across the bay over Sunny Beach and Nessebar.
Surrounded to the south, east and west by almond groves, the site is bordered to the north by one of the largest national forests in Bulgaria. The hill rises gently to the north across the site providing excellent south and east facing sea views for all of the hotel properties. The area combines the quiet seclusion of the nearby groves and forest with the facilities and entertainment of nearby Sunny Beach, just 5 minutes away. Burgas Airport is some 40 km away and Varna Airport is approximately 100 km from the hotel. One, two and three-bedroom apartments are available. There is an outdoor swimming pool with children's paddling pool on the hotel grounds, as well as a Jacuzzi, a sauna, a steam room, massage treatments and an on-site gym.
Location:
Kosharitsa is a small village, situated in Nessebar municipality, in the region of Burgas. It has a very good location, just 4 kilometres away from the Bulgarian equivalent of Las Vegas - the lively Sunny Beach Resort. The picturesque village is beautifully nestled at the foot of the Emine Balkan, part of the Old Mountain Balkan Range. It reveals unforgettable views towards the mountain and at the same time its close proximity to the sea and the lovely beaches of Sunny Beach makes it a perfect place for a relaxing summer holiday.
There are a variety of project development plans, including construction of a golf course in Kalinata Range and building of modern residence complexes. Many properties for sale in the region are offered as well.
In Kosharitsa there are very good opportunities for sport tourism, including mountain biking, fishing and hunting.
Click for more »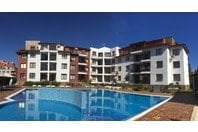 Apartment, Nessebar, Bulgaria
Appreciating Assets are delighted to offer this spacious 74m2, One bedroom bedroomed 4th floor apartment in Apollon 2 to the market. The property comes to the market fully furnished at the very reasonable asking price of just €26,000.
Property description
The property has been wonderfully furnished and is in turnkey condition, allowing you to enjoy or rent the property immediately. It has mainly been used the current owners as a family holiday home and as such it has seen very little wear.
At 74m2 it is very spacious and could comfortably accommodate six to people.
The Apollon 2 apartment complex consists of a range of luxury hotel facilities: spa centre, private and modern swimming pool with outdoor bar, restaurant , communal garden, luxurious common parts, parking area. The apartments are suitable for permanent residing as well as for renting out in the summer season.

The Development has been constructed to the highest modern standards which include:
PVC double glazing
Air-conditioned with multi-split system
Cable TV installation
Terracotta flooring
Telephone lines
Insulated walls and ceilings
Solid internal doors
The entire building has been thermo insulated for maximum temperature protection
Click for more »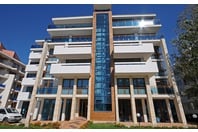 Apartment, Sunny Beach, Bulgaria
Appreciating Assets are delighted to offer for sale this wonderful fully-furnished 2-storey 1-bed duplex apartment with pool views that is extremely spacious at 74 square metres, situated in Block A of the fantastic Villa Itta resort complex in Sunny Beach Bulgaria, now asking just 35,000 euros.
Property Description
This duplex property is on both the ground floor and first floor of the Block A building in the Villa Itta complex and including outside terrace measures some 74 square metres in total floor space. This resort is widely recognised as a 'Boutique' complex that is just a few hundred metres from the beach and sea. It is a very chic development indeed. Just take a look at both the exterior and interior photographs of this this unique building and it is evident to all why. Not only is this property special because of the ultra-modern building and fantastic 4 swimming pools, but because the property is arranged on two floors, thus creating the impression of living in a separate house or villa (hence the name of this resort). The flooring is mainly tile and marble with some wood-effect laminate flooring in key areas such as in the kitchen. The ground floor contains the main living space with large kitchen-cum-dining area adjacent to the TV/sitting room space. There is of course a very modern fully-fitted kitchen along with a charming dining table suite, and even the sofa and chairs are all colour-coordinated. The master bedroom plus bathroom with shower, sink and toilet are all arranged on the upper floor of this duplex property. The bathroom is totally neutral - like much of the decor of this property - in this case being almost totally white, so very bright and clean-looking. In addition, there is a lovely tiled balcony with predominatly glass walls with aluminium uprights, such that one can see through the balcony balustrade into the amazing swimming pool area that incorprates 4 different pools of different shapes and depths (tailored for both adults and children). This is an exceptional property and a great opportunity to acquire a really special property in a very salubrious, yet compact holiday development as there are only about three-dozed residences in total in Villa Itta.
Background to Villa Itta
The Villa Itta complex is wonderfully located in the western part of Sunny Beach, Bulgaria's most famous international resort. Set in a park area, it is less than ten minutes walk from the centre with its myriad of attractions and 300 metres from the famous beach. The development and apartments offer the best of contemporary design with great views to the mountains, park and sea, not least from the glass panoramic lifts. It is less than 30 minutes from Bourgas international airport.

The luxury Villa Itta development offers a peaceful haven with easy access to all that the resort of Sunny Beach has to offer. There are swimming pools including a children's pool, play areas, 24-hour security guards and an electronic security system, shops, bars, and parking areas. The poolside cocktail bar is a wonderful place to relax on sultry summer days.

If you do want to leave the complex, it is a short walk to the huge resort of Sunny Beac which is renowned for its lovely 'blue flag' golden sandy beach that extends for nearly eight kilometres beside crystal clear waters. It has a vibrant, exotic and popular nightlife, not to mention the shopping, restaurants and a range of water-based sports and facilities to meet everybody's requirements. The picturesque town of St. Vlas, at the eastern foothills of the Stara Planina mountain range, provides a wonderful contrast with its scenic nature and contrasting architecture and the lovely 'Marina Dinevi' – the facilities on offer are also superb and far ranging. The ancient city of Nessebar is less than 6 kilometres away - formerly a fisherman's town, it is now one of the loveliest of Bulgaria's historical attractions and is a UNESCO architectural and historical reserve. These three locations: Nessebar, St.Vlas and Sunny Beach form a huge and wonderful destination where all kind of entertainment and service is available, and every taste is catered for. This entire area is famous for its micro-climate, making it a great place for sunbathing with over 1,700 hours of sunshine between May and October and an average daily temperature of 27 degrees.
Click for more »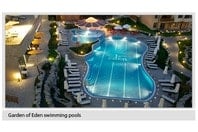 Apartment, Sveti Vlas, Bulgaria
Appreciating Assets are delighted to offer for sale this lovely fully-furnished modern 42 m2 withterrace for the great price of just 26,000 euros in the highly sought after Garden of Eden development.
Property Description
The property has the superb design and layout of this ground floor studio apartment has the feel of a larger one-bedroomed property. The property is tastefully furnished in a thoroughly modern style and includes a fantastic kitchen area off the open-plan living space along including wood laminate flooring and bright decor. There is also a separate utility room with washer/dryer and a bathroom complete with shower. Probably one of the most attractive aspects of this particular studio located in the Borina View (see complex map photo) building is the garden terrace.
Location & Complex Information
Garden of Eden is located at the end of the Black Sea resort town of Sveti Vlas and the distance from the following locations is as follows:
| | |
| --- | --- |
| • Garden of Eden - Sunny Beach 5 km | • Garden of Eden – Varna 100 km |
| • Garden of Eden – Nessebar 12 km | • Garden of Eden - Varna Airport 110 km |
| • Garden of Eden - Burgas 45 km | • Garden of Eden – Sofia 445 km |
| • Garden of Eden - Burgas Airport 35 km | • Garden of Eden – Plovdiv – 300 km |
The Garden of Eden complex is considered one of the finest 5-star beach resorts along the Black Sea coast and offers numerous health, relaxation and sports facilities including of course an amazing choice of 7 outdoor and 1 indoor swimming pool. The Garden of Eden fitness centre offers the following amenities:
| | | |
| --- | --- | --- |
| • Two saunas | • Solarium | • Massage salon with various therapies |
| • Jacuzzi | • Turkish bath | • Hairdresser and Beauty Salon |
Click for more »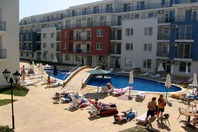 Apartment, Sunny Beach, Bulgaria
Appreciating Assets are delighted to offer for sale this fully-furnished 3rd floor 2-bedroom apartment that is quite spacious at approximately 70 square metres internally plus balcony at the extremely well-known Sunny Day 3 holiday resort for the new price of just 19,000 euros
Property Description
This property is reasonably large and is very bright and airy complimented by wood-effect laminate flooring, so easy to clean & maintain and it has 2 large double bedrooms so it can easily cater for half a dozen or more people (especially with the clever use of sofa-beds, if required). There are free standing wardrobes, drawer units and bedside loclers in the bedrooms. The decor is very neutral with the walls painted in an off-white colour (similar to cream or magnolia) and constrasts nicely with the wooden internal doors, door frames and skirting boards. Overall it creates a nice ambience. The bathroom is tiled from floor to ceiling in a split or two-tone design, with darker tiling at the bottom and white tiles above. There is an open shower in the corner which is actually quite useful for a holiday apartment with people coming and going from the beach or pool, having quick/multiple showers throughout the day, thus expedient but also minimum fuss and maintenance too. The rest of the bathroom features standard white porcelain ceramics. The kitchen space is very good with lots of cupboards and storage space, as well as a washer/dryer and of course a large free-standing fridge/freezer that is essential for those who enjoy self-catering vacations. The kitchen also has an electric stainless steel fronted oven, a two-ring hob and of course an overhead extractor fan - perfect for preparing quick meals. Adjacent to the kitchen area is the main living room with dining tavle & 4 dining chairs, TV stand, coffee table and cream coloured sofa & armchair, all in a traditional rectangular shaped room. All of the furnishings are lightly coloured apart from the contrasting drapes, which along with the white walls make for a very clean look and feel. Condition of the property is excellent throughout as is evidenced by our recent photographs. Finally there is also a balcony overlooking the gardens to the rear of the complex and not overlooked by any other building, thus offering a degree of privacy. On a price per square metre basis, this apartment offers tremendous value for money and so would suit either an investor or a potential owner-occupier,
Background Information on Sunny Day 3
Sunny Day 3 occupies an area of more than 14 000 sq.m and consists of 350 modern apartments in 15 residential buildings. The complex offers outdoor swimming pool, pool bar, children's playground, restaurant, shops, plenty of places for parking cars and a beautiful green area. Finished apartments in Sunny beach, fully furnished and ready to use, give an excellent opportunity to invest wisely. The apartments are with laminate, painted latex walls and ceilings, PVC window – glazing, MDF entrance and interior doors, electrical switches and contacts, lamps. In bathrooms and toilets – terracotta, faience and accessories. Complex Sunny Day 3 in Sunny beach is with all-year-round physical and electronic security protection.
Click for more »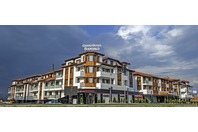 Apartment, Bansko, Bulgaria
Appreciating Assets are delighted to offer for sale this spacious fully-furnished 1-bedroom ski apartment, measuring some 63 square metres in total (private + communal area), with an exceptionally large balcony overlooking the restaurant area at the Grand Hotel Bansko, now on the market with an asking price of just 25,000 euros.
Property Description
This is an extremely spacious ski apartment, even as 1-bed ski properties go. The internal floor space measures some 49.06 square metres with an additional 14.41 square metres of communal space, not to mention the large balcony area accessible off the bedroom. It is worth noting that this property is fully-furnished to a high standard already, and includes a sofa-bed in the main living room thus ensuring that this ski apartment can easily accommodate up to 4 adults sharing. There is a fully functional compact kitchenette part of the main living space that is perfect for preparing light meals and snacks. Also there is a fully-tiled bathroom with all of the usual conveniences including of course a shower. Off the kitchen area is a dining suite with wooden table plus four chairs, so perfect for a small family or up to 4 adults together. The main TV/Living room has a lovely two-tone modern sofa-bed with matching dark wooden coffee table and TV stand, on which rests a flat-screen television (all included in the price, so ready to occupy immediately). The master bedroom is spacious with large double bed plus matching dark wooden closet and cabinet/dresser as well as bedside lockers, plus there is a glass door to the balcony area, thus ensuring tonnes of natural light plus of course plenty of fresh air when needed. The balcony area is part covered and is tiled, plus is certainly big enough to accommodate some patio furniture outside, for instance a small round table perhaps with a couple of chairs, making for a relaxing place to sit outside and read or have a coffee etc. All told this is a cracking property of decent proportions in a large ski resort close to all the action, now for sale at an incredible price when calculated on a price-per-square-metres basis (only a few hundred euros per square metre), close to original build cost, so any future downside risk to value is negated making both for an excellent rental investment proposition as well as a great affordable owner-occupier ski property.
Additional Information on the Grand Hotel and Spa
Grand Hotel and SPA is a luxury resort with impressive functionality and design. It is located near the central square of the town of Bansko.
The Aparthotel offers all the amenities and services needed for complete relaxation, active ski holidays or a successful business trip. In the summer of 2012 the hotel part and SPA centre of the complex were completely renovated.
In the brand new Spa and fitness centre You will find a wide variety of unique facilities and services – 6 massage studios; Scandinavian, Aroma and Stone relaxation rooms; indoor swimming pool; two Jacuzzis; contrast shower; steam bath; 3 saunas - infrared sauna, aroma sauna and Finnish sauna; solarium; VIP SPA Apartment; sports centre, fully equipped Techno Gym.
In a nutshell, on an area of 2,000 square metres (half an acre) you will find luxury and pleasure unmatched in Bansko!
The complex offers an outdoor swimming pool with poolside bar – a real oasis in the hot summer days.
The hotel offers authentic Bulgarian restaurant "Old Bansko," which offers a variety of traditional regional specialties. The tavern has a large selection of Bulgarian and imported wines to suit every taste and occasion. The mood of our guests is ensured by our attractive Orchestra, a highlight of the program each evening dance performances are unique in our ensemble.
For lovers of nightlife entertainment, Grand Hotel and SPA offers one of the largest casinos, a night club called "The Club" and of course a splendid bar area.
Bansko
Bansko enjoys a picturesque location in a valley surrounded by Pirin, Rila and the Rhodopi Mountains. Bansko is considered to be the most developed Ski Resort in Bulgaria and Eastern Europe with a total length of 70 km ski runs. Bansko is not only a winter resort - today Bansko is all seasons Resort offering wonderful conditions for winter and summer tourism. Whether visiting Bulgaria for business or leisure purposes, Bansko is the perfect place where you can work or explore all that Bulgaria has to offer. Considering its architectural and historical value, Bansko becomes the pearl of all Bulgarian resorts. Being the biggest Bulgarian ski resort, Bansko offers great variety of luxury hotels, holiday apartments, family hotels and pensions, satisfying tourists of different financial means.
Click for more »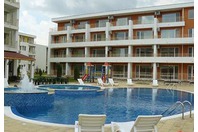 Apartment, Sunny Beach, Bulgaria
Appreciating Assets are delighted to offer for sale this fully-furnished spacious at 78 square metres, 2-bedroom ground floor apartment with pool views at the fantastic Holiday Fort Golf Club in Sunny Beach for the very realistic price now of only €25,000 euros.
Property Description
This is a large 2-bedroom property measuring 78 square metres internally, plus it is situated on the ground floor of Block A1, so it has a long terrace area outside and is facing the swimming pool area and overlooking the gardens. Decor is quite elegant with a lot of wood and wooden furniture standing out, particularly against the lightly-coloured walls and contrasting wood-effect laminate floors. It is a very simple look as far as the interior goes, which is probably also a reflection of the simple yet linear look and design of the exterior of this development, once could not say that this was a fussy or cluttered building. It's all about clean lines and open space whilst fitting in with the external environment. That said, the kitchen area is very aesthetically pleasing, yet small and functional. Likewise the adjacent dining area with two-tone (dark legs + light top) wooden table and chairs along with matching coffee table and TV stand in the rest of the open-plan living space, all show that some thought was put into colour co-ordination of the furniture pack that comes with this property. Both the bedrooms exhibit the same level of detail with large double/twin beds (optional) surrounded by two-tone (this time dark top, lighter below) wooden bedside cabinets, matching headboards and of course other similar free-standing bedroom furniture such as dressers, drawers and wardrobes, all retaining a similar look and feel. The bedrooms as our recent photographs clearly show, are both sumptuously spacious. Next if we look at the bathroom we see normal standard-looking white porcelain sinks, toilets etc., contrasting the large feature corner shower cubicle with curved glass doors, as well as the clever use of dark versus light wall tiles on adjacent walls (shower wall uses a reddish dark brown tile, whereas the other walls are much more neutral in terms of the beige wall tiles used), plus there is a differerent floor tile used too. Finally, the main living space has a two-tone sofa with matching coffee table in the corner of the room, beside the glass windows which include a sliding patio door access to the long terrace outside. Overall, this property has a very clean and relaxed feel to it, perfect for those summer sun vacations. This property is big, so can easily accommodate up to 6 persons, especially if one were to utilise a sofabed in the main living room. As our recently-taken pictures show, a prominent feature of this ground floor apartment is its proximity to the gardens and of course the swimming pool area, yet it still feels relatively private.
Holiday Fort Club – Location & Facilities
The first part of Holiday Fort Golf Club consists of 7 sections A1A2, B1B2, C1C2, E1, F1 and F2 and has 186 apartments 64 studios, 81 one bedroom apartments and 41 two bedroom apartments.
The complex is located right next to the lovely Aqua Park and 10 minutes' walk from the lovely beaches of Sunny Beach in close proximity with our complex Nessebar Fort Club and Nessebar Fort Golf Club. The location of Holiday Fort Golf Club is very advantageous it is just outside the overcrowded centre of the resort and at the same time on walking distance from the magnificent beaches of Sunny Beach and the exciting night life in the resort.
Garden area of the complex is colourful combination of natural plants and trees over more than 13,500 square metres (circa 3.5 acres). Owners get to enjoy both a cosy atmosphere and a relaxing space with water, rocky gardens and plenty of green areas. Another distinct advantage of the location of the complex is its close proximity to reserve Kalinataand where nature lovers may enjoy the beautiful forest with walking paths.
Other amenities include restaurants with Italian and Mediterranean cuisine, 6 individual swimming pools for children and adults, medical/health and beauty centres, fitness gymnasium, and of course sauna and massage studios. Property owners here are also able to use all the facilities of Nessebar Fort Club and Nessebar Fort Golf Club.
The proximity of the complex to the Aqua Park is another advantage for children and their parents. You can choose from the wide variety of waterpark locations and activities at Action Aqua Park Sunny Beach. From the extreme to the sublime, the outdoor waterpark have been designed to meet the recreation needs of young and old alike. The Red Cross Certified waterpark lifeguards and supervisors work diligently to keep the fun happening safely. Try the reverses, switchbacks, curves, loops and dips all delivering you to one of the cool, refreshing pools, or take a break from the water and shoot an easy 15 holes on the multi-tiered putting green course.
Apartment owners in this complex will automatically have the option to become members of the nearby Golf Club and can practice their swings and improve their golf skills the whole year round on the golf course that also includes:
Golf Club Restaurant
Driving range with 6 lanes
3 fairways 120 meters each
Training putting Green
Given the exceptionally mild climate in the Sunny Beach area the Golf season here is practically 12 months!
This holiday resort complex offers the following facilities:
3 Restaurants Sea food cuisine, Italian cuisine and Mediterranean cuisine
Full Bar
Vienna Cafe
6 swimming pools for adults with lifeguards
Special swimming pools for children with lifeguards
Shops
A sauna
A fitness club
Beauty centre
Medical centre
Dentist centre
Changing Facilities
Playgrounds for children
Internet zone
Relaxing gardens with green area trees, flowers and grass area
Rubbish bins and ashtray for cigarettes next to all blocks
Rent-a-car shop
Guarded parking lot
A massage studio
Click for more »