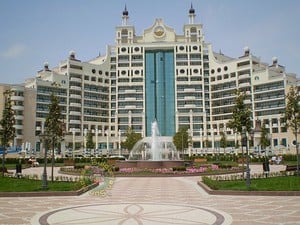 Sunset Resort
The South Beach of Pomorie stretches down a quiet gulf in the Black Sea coast. Remarkably, it is one of the safest beaches in Bulgaria, having very slight surf and almost no tide. It has a total length of app. 1000 m and width of up to 100 m.
The luxury five-star Sunset Resort comprises 5 aparthotels and 6 deluxe waterfront villas, on a total built up area of 115 000 sq.m. The four outdoor swimming pools offer various water attractions and include two pool bars, all expanding on a total area of more than 3 500 sq.m.
At Sunset Resort you will find a great variety of food and drinks offered in a number of restaurants and bars. The hotel compound has a total of 9 restaurants, from which 5 are main buffet restaurants, and 4 a la carte restaurants located in the different aparthotel buildings. We offer you also several lobby bars, two pool bars, a Vitamin bar, Vienna pastry shop and a boulevard seafront Sunset Cafe, as well as numerous entertainment locations such as bowling and billiards evening bar, where you may spend your leisure time together with your family or friends. For a quick reference please consult the information in this section.

VENEZIA
The Italian restaurant Venezia is situated in aparthotel Eta along the beach promenade. It comprises an indoor dining area and a terrace, seating a total of up to 140 guests. In a spacious yet intimate atmosphere you are welcomed to enjoy a sophisticated dining experience. The interior is made up of stylish furniture in the colours of the Italian tricolor.
MEDITERRANEO
If you prefer fish and seafood specialties you are kindly welcomed in the fish a la carte restaurant situated on the boulevard promenade in one of the seafront villas. It comprises a dining area and a terrace, seating a total of up to 100. The interior is well decorated with sea accessories in the maritime colors blue, golden and green. You can feel the breeze touching softly your skin while seating on the restaurant's veranda or enjoy your dinner indoors in a delightful and intimate atmosphere.
ASIA
In aparthotel Delta is situated the sushi a la cart restaurant where you are invited to enjoy a special food selection, typical for the cuisine of the Far East – the classics: Basmati rice, Japanese sushi, Indian spicy chutney, and Chinese-style shrimps. In a cultivated atmosphere and individually decorated interior, your dining experience will be enhanced also by an attentive service, satisfying your wishes and meeting the highest requirements.
LA BOHEME
In aparthotel Sigma there is situated the French a la carte restaurant La Boheme. In a cozy and "boheme" atmosphere, you can taste some of the most delicious French dishes and wines. The restaurant disposes of an open-air terrace. Next to this dining location there is a cigar bar, for those, who would like to relax after dinner and have a chat or drink with friends.